Our pets are part of our families, and they tend to be curious, especially when it comes to their stomachs - sometimes even giving flowers a taste. That's why we invited Dr. Sharon Gwaltney of the ASPCA to give us some insight on pet safety when it comes to having cut flowers in our homes.
Brief list of "pet friendly" flowers and plants:
Common Name | Scientific name
African daisy | Arctotis stoechadifolia
African violet | Saintpaulia spp.
Alyssum | Allysum spp.
Bachelors buttons | Centaureaa cyanus
Begonia | Begonia spp.
Celosia | Celosia spp.
Common Snapdragon | Antirrhinum majus
Easter Daisy | Townsendia sevicea
Orchids | Barbrodia, Sophronitis, etc.
Peruvian lily, Brazilian lily | Alstroemeria spp.
Rose | Rosa spp.
~Dr. Sharon Gwaltney-Brant, DVM, PhD, DABVT, DABT
Vice President and Medical Director
ASPCA Animal Poison Control Center
Toxic to cats and dogs
Sending a floral bouquet or living plant is a great way to show that you care. Households with pets can pose a bit of a challenge when selecting such a gift, as care needs to be taken that plants are selected that will pose no hazard should the pets decide to munch on a few leaves. While many plants will cause nothing more severe than mild digestive upset should they be ingested by pets, some can cause more serious health issues.
Toxic to both cats and dogs are Tulips, Azalea, Bird of Paradise, Aloe, Begonias, Baby's Breath, and Amaryllis.
Members of the
Lilium
genus, including
Easter and stargazer lilies, can cause serious kidney problems if ingested by cats
. So, when sending a bouquet or plant as a gift to a pet owner, it is always best to seek out (or create) a "pet friendly" bouquet.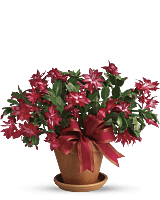 Alternative choices
For households with cats, beautiful and non-toxic
Alstroemeria
(Peruvian lily, but not a "true" lily) can be substituted for
Lilium
(true lilies). For bouquets, request ferns (most ferns are non-toxic) as greenery in place of baby's breath. When requesting specific plants or flowers from a florist, it is a good idea to let them know what plants you are trying to avoid and why, in case substitutions need to be made.

Rose petals are fine for your furry friends.
Photo source: D Sharon Pruitt via Flickr





Careful with those tulips!
Tulips are toxic to cats and dogs.



Non-toxic choices
What is a pet friendly bouquet? It is a bouquet consisting of plants and flowers that are not considered to be toxic to pets (primarily cats and dogs). Flowers such as
roses
,
African daisies
, and
orchids
and plants such as
bromeliads
,
African violets
and
Christmas cactus
are
non-toxic
(although any ingested plant material might occasionally cause mild, self-limited vomiting) and would be suitable as to have in households with pets.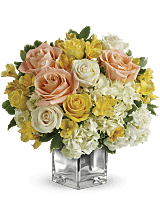 ASPCA Animal Poison Control Center
How will you know if a particular plant or flower is potentially toxic? The Internet is a good resource, and at the ASPCA Animal Poison Control Center website, you can find a searchable list of both toxic and non-toxic plants. When looking for information on the toxicity of a flower or plant, it is best to know the scientific name as well as the common name, since common names can be shared among multiple plants with quite different characteristics. Other sources of information include university websites and books on poisonous plants.