Flowers sent to the funeral home serve as a tribute at the service of the deceased. They add decoration, beauty, fragrance and life to a somber event. They are symbolic not only of love and sympathy, but also of eternity and immortality. Throughout the world,
funeral flowers
have played an important role in funeral customs because of their fragrant beauty and comforting qualities. In ancient times, tradition called for loved ones to use flowers and herbs to anoint the bodies of the deceased, while aromatic flowers and plants were used to decorate the burial site. Today, flowers remain one of the most beautiful ways to express our condolences when words fail us. Need help getting started?
Shop our Funeral Collection
by location, color or price. Or read on for more helpful information.
What's the difference between "funeral flowers" and "sympathy flowers"?
I just heard the sad news… Is it too late to send funeral flowers?
The obituary says "In lieu of funeral flowers," but I still would like to send flowers – is this appropriate?
As part of making funeral arrangements, family members sometimes request a charitable donation is made "in lieu of flowers". We think you should make the contribution, however it is also acceptable if you decide you would also like to send flowers to the funeral service. Your donation will honor the family request and the flowers will add beauty, fragrance and life to a somber event.
I am unsure on what to say and how to sign the card.
We collected money among the people in our office to send flowers. How do we sign the card?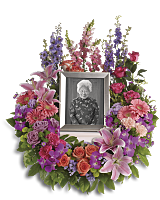 Is it appropriate to send flowers for the casket?
The tradition of adorning the casket with fresh flowers is typically reserved for the closest family members, often the deceased's children or those making the funeral arrangements. For that reason, it is recommended that you inquire with the family before ordering a gift of flowers for the casket.


Are there certain types of flowers that are not appropriate for sending to a funeral service?
Every flower when tastefully arranged is appropriate for expressing condolences. Designs that are going to a memorial or funeral service usually have larger flowers to create dramatic tributes. These might include gladioli, snapdragons, lilies, standard chrysanthemums, carnations and roses. Small-scale flowers in mid- to small-size designs are usually used for sending to the home. Only family members who are arranging the funeral should order flowers for the casket. You may also want to browse:
Sympathy Etiquette for Different Religions
Types of Sympathy Plants/Flowers and their Meaning
I'd like to send a colorful, less somber arrangement that celebrates life.
A funeral service is as much about gaining closure following a death as it is about celebrating the delight and energy the deceased brought to life. For that reason, selecting
vibrant, colorful and bright funeral flowers
are just as appropriate and can add a joyful note of remembrance to an otherwise somber occasion.
I am not certain where the service is being held. Can the florist help me?
Don't worry, if you have the name of the deceased and the funeral home, most florists have the local obituaries on hand to check them. You can trust the florist to take good care of your order and get your arrangement to the funeral on time. Also, it is possible that the florist may have multiple orders for the same funeral, so they will be aware of any theme or color scheme preferred, and they know the local customs.

I don't know what to send to a funeral that is out-of-town or overseas
If you are sending flowers to a service that is out-of-town, ask that the local florist who delivers the order to fill it "according to local customs." Then they will send the style of design that is best suited for the service. There are many types of services, from traditional funerals to memorial services. It is appropriate to buy and send funeral flowers to any of these services.


I want to provide an arrangement for the service, but I don't know what the set-up will be that day
I want to honor our loved one at the church service in a symbolic way